Laminated / Stratified Glass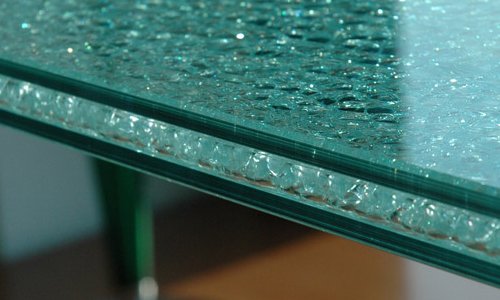 What is stratification ?
Stratification is a process by which two sheets of glass, with the same or different thicknesses are permanently bonded together by a sheet of adhesive inserted between them.
Stratified glass consisting of two sheets, can also be stratified with a third sheet of glass, and so on.
Tale procedimento consente di ottenere VETRI STRATIFICATI DI SICUREZZA DECORATI che, in caso di rottura, tutti i frammenti di vetro restano attaccati (allo strato di resina indurita, o al plastico) impedendo così il ferimento di persone.
This procedure can be used to create DECORATIVE LAMINATED SAFETY GLASS, which, should it break, the shards of glass remain attached to the hardened resign layer, thus preventing injury.
THERE ARE SEVERAL METHODS OF STRATIFICATION
1) ARTISAN STRATIFICATION PROCEDURE WITH COLOURED OR TRANSPARENT RESINS.
This is one of the techniques predominantly used to produce decorative stratified glass.
In this case, the adhesive material is a liquid resin, which, with the addition of a catalyst, hardens in a vacuum at room temperature, in approximately 12 hours.
Coloured pigments can also be added to achieve an almost limitless spectrum of colours.
To make safety fusion glass, for example, the most commonly used technique is resin stratification, where another laminated or tempered glass sheet is added.
2) – STRATIFICATION PROCEDURE USING PLASTIC SHEETS – KILN FIRED IN A VACUUM.
This is one of the most commonly used techniques to produce large decorative stratified glass.
Individual plastic sheets, are used to stratify the glass. They are kiln fired in a vacuum to bond the glass and the sheets together.
This technique allows for thin materials, for instance: card, material, coloured leaves, metal meshes etc., to be inserted between the glass sheets, enabling decorative glass, or safety glass to be created.